Below are pictures of our babies being shown by their new owners. We thank you for being a part of the promotion of the MK/ML Breeds!
We have the distinct pleasure of showing along side Junior Fancier Jenna with her black standard MK, QGCA Mackscats Nubbin. Her mom got jealous and wanted in on the action so she adopted...sniff, sniff...Momma's Lil Loverboy (of KlassyKittens), a non-standard ML, from me and is doing a superb job of showing him in the HouseHold Pet Adult class! It is fun to show side-by-side with these two....they may be our competition, but they are our friends first....it's a fun race to the top.
10-18-07 **LoverBoy Update** Mrs. Becky has shown LoverBoy to SUPREME GRAND MASTER!!!!!!!!!
MOMMAS LIL LOVERBOY (OF KLASSYKITTENS)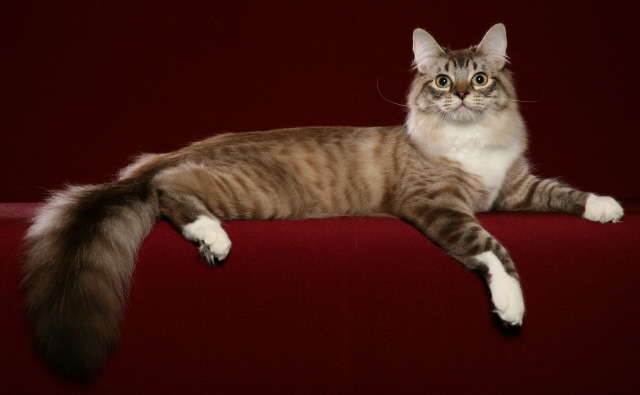 NON-STD SHOWING IN HHP-A
REGINA SUE'S ROSEBUD OF KLASSYKITTENS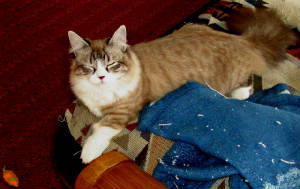 Loverboy's twin "little" sister. Rosebud is a std ML.
CH REGINA SUE'S ROSEBUD OF KLASSYKITTENS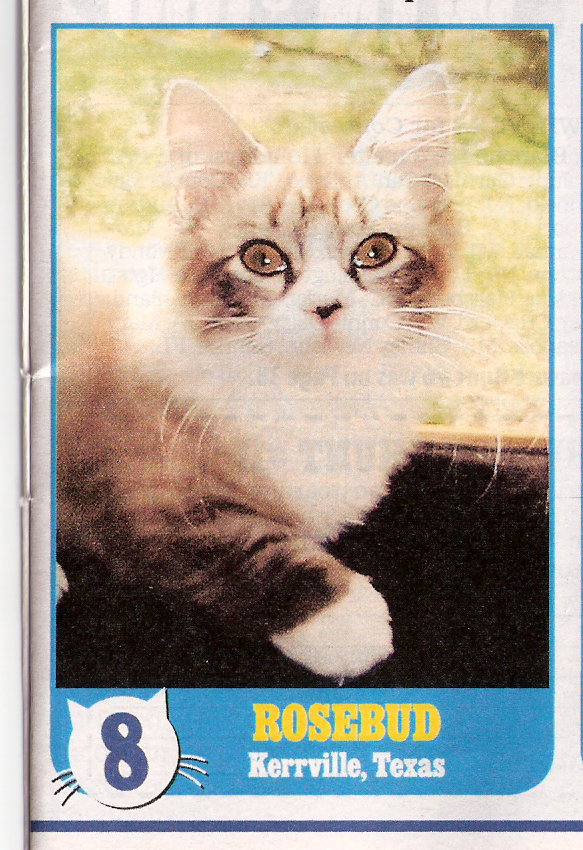 NATIONAL EXAMINER...CONTESTANT # 8
Rosebud is a top 10 finalist for the America's Cutest Cat Contest being conducted by the National Examiner! We are proud of her making the final cut from hundreds of photos submitted for the contest. Voting takes place over the next two weeks...issues # 11 & 12 of the National EXAMINER have the ballots in them with the pictures of the finalists. All original ballots must be in by April 8th....then they will tally the votes. When we know her final placement among the top 10 we will do an update....fingers, toes, and eyes are crossed hoping she gets chosen as America's #1 Cutest Cat.
**UPDATE*** Rosebud took 3rd place!!!
We wish to thank Sue for showing KlassyKittens S Bitsy Girl, a standard ML and her sister Tiger Lily, a non-standard ML. They are doing wonderful in Sue's hands in the show rings. We enjoy getting every update on these two girls! Thanks a heap Sue!!!
*****Bitsy & Tigerlily updates:*****
Sue has shown Bitsy to Supreme Grand Champion Alter!!!!
AND...she has shown Tigerlily to Supreme Grand Master!!
THANKS Sue for showing the girls so expertly!!
TIGER LILY---W/HER 3RD PLACE BEST OF BEST ROSETTE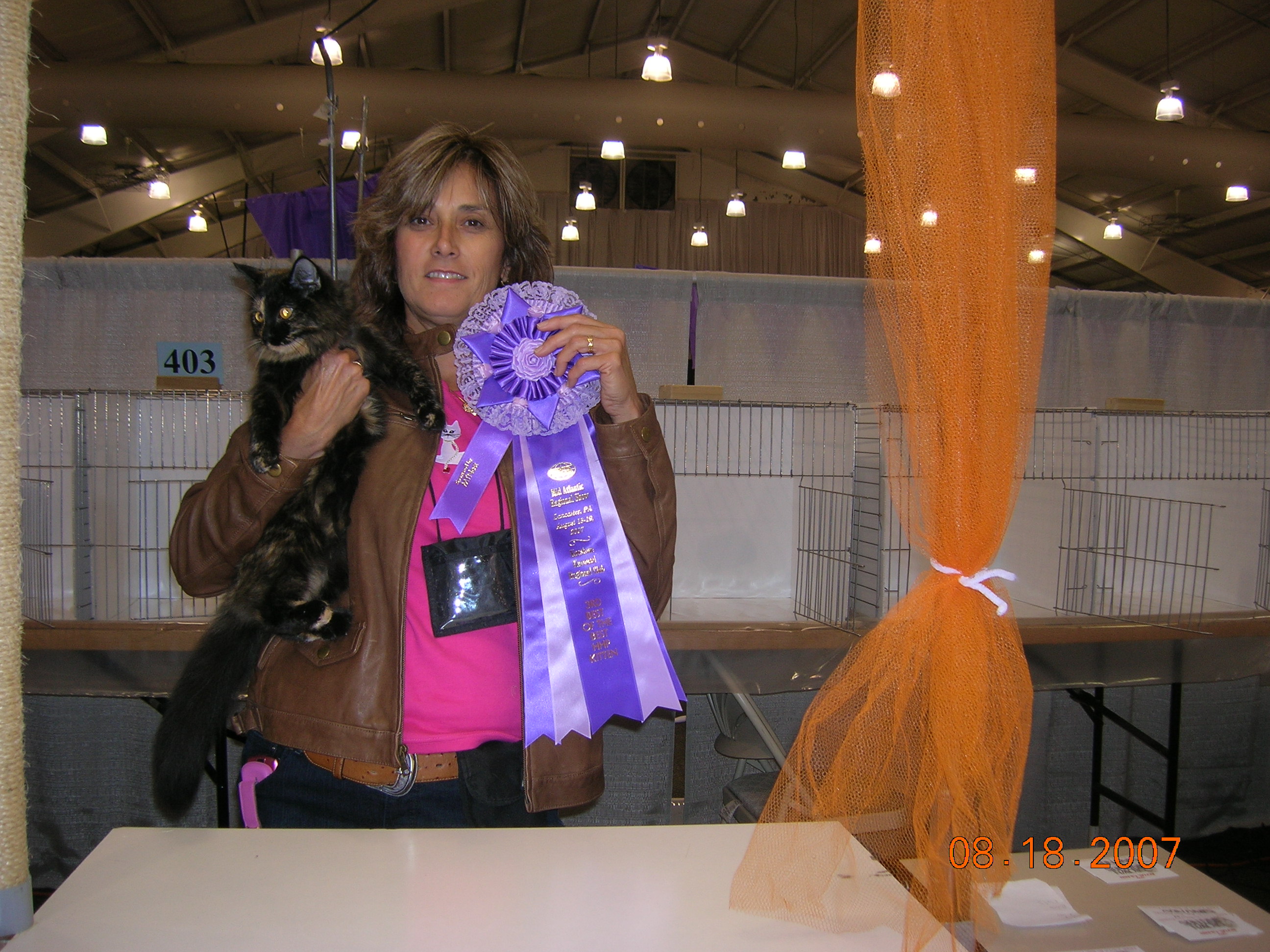 NON-STD HHP-A CLASS
KLASSYKITTENS S BITSY GIRL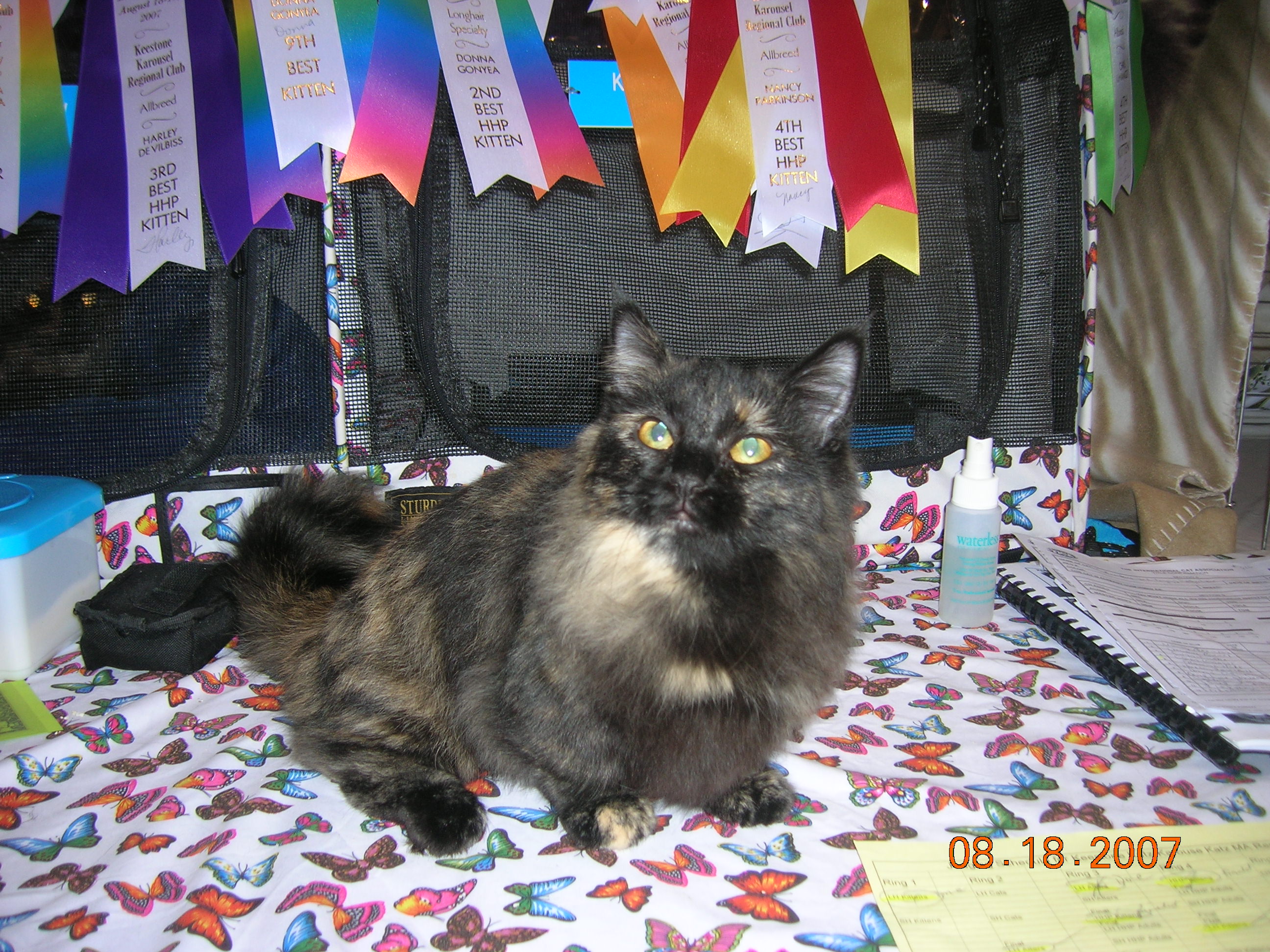 LOUNGING IN HER BENCHING AREA